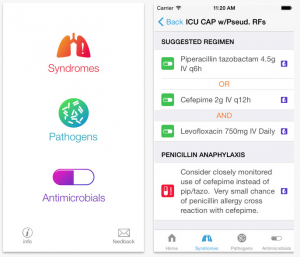 Disclaimer: I am not paid for the following overwhelmingly complimentary review of an app.
If you are a doctor or nurse working in Calgary, you should immediately click this link on your iPhone and download the free Spectrum App.
Okay, I guess you may want to know what this is.  The Spectrum App is a fantastic program containing local Calgary antibiograms describing the sensitivities of community-acquired, hospital-acquired and ICU-acquired bacterial infections.  There is actually even more than that, but these alone are worth the 10 seconds required to download this.
In addition to the antibiograms, there are details for antibiotic doses and cost, a dosing calculator for renal adjustment, as well as criteria for diagnoses (eg. Cholecystitis, Febrile neutropenia, SBP) and much more.  I haven't even fully explored this App, but wanted to get the word out now.  Soon I will realize its full power!
Thanks to one of the EM residents, Kathryn Crowder, for telling me about this awesome app.
Cheers,
Chris